Dear friend
As you may well have heard by now, our beloved and inspirational Polly Higgins departed this physical dimension on the afternoon of Easter Sunday, at the end of an extraordinary week that saw her life's work begin to emerge into the awareness of thousands.  She left peacefully, in the company of her devoted husband Ian and close friends, with a mischievous smile on her face.
Her timing was extraordinary. Not an hour after her passing, thousands across London were singing and remembering her (shortly before the appearance of Greta Thunberg on the Extinction Rebellion stage). The news has spread so fast that we are having trouble keeping up with the coverage and the social media … which is wonderful and nothing less than she would have wished.  It seems the world may finally be ready to hear what she has been saying for so long.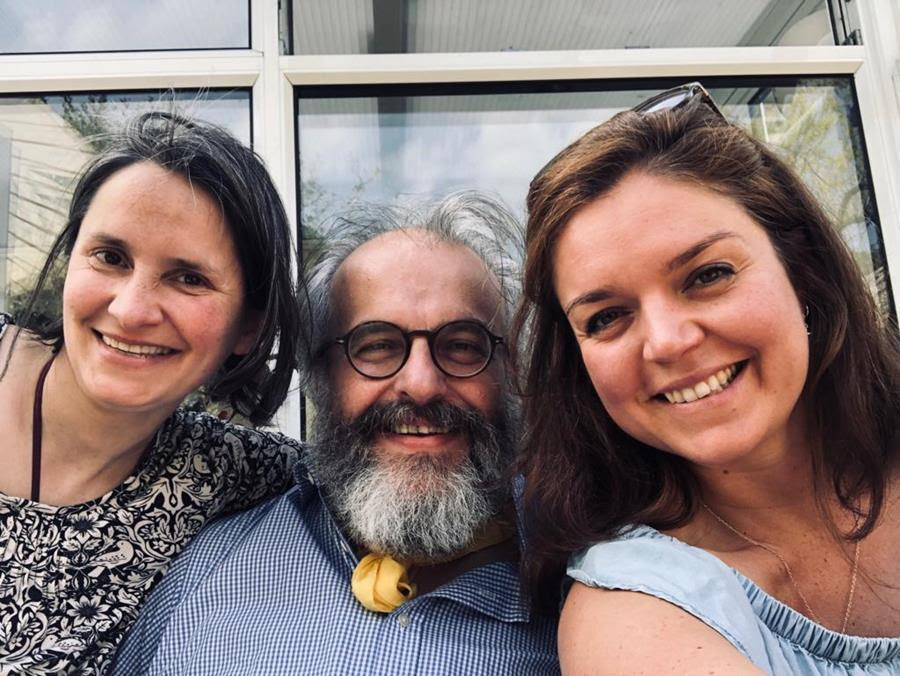 This pic shows (left to right) Jojo Mehta, Polly's closest colleague and co-founder of the Earth Protectors campaign; Ian Lawrie QC, Polly's beloved husband; and Katy Olivia van Tergow, Polly's trusted deputy in The Netherlands.  We can all attest that it is actually impossible to think about Polly for any length of time without smiling!
Polly was absolutely clear that she wanted to be celebrated rather than mourned, and left a number of specific requests to this effect:
Honouring Polly (for Findhorn CCC19)
Polly was due to be a keynote speaker today Thursday 25th April at the Findhorn Climate Change & Consciousness conference.  She said (from her hospital bed 3 weeks ago) that she intended to record the talk instead at Hawkwood College in Stroud for broadcast at Findhorn.  In her absence her colleague Jojo Mehta will be speaking at Hawkwood to honour Polly and her work, and will be joined by Dr Gail Bradbrook, co-founder of Extinction Rebellion.  The talk is being filmed by LUSH and will be available to watch via Findhorn and Hawkwood from next week.
The funeral is to be held in Stroud, Polly's hometown, and she will be buried in the beautiful Slad Valley where she lived. All are welcome.
WHERE:  St Laurence's Church, Stroud GL5 1JL 
WHEN: 10am Friday 3rd May 2019
WHAT: Polly's spirituality was eclectic, and the ceremony will reflect this. It shall be followed by a procession to the Slad village churchyard where Polly shall rest on a beautiful hillside overlooking her favourite local pub (the Woolpack), which funeral guests are welcome to adjourn to afterward. A lunch menu is available.
HOW: Special instructions from Polly are: NO BLACK to be worn, and organic whisky to be served (her favourite will be available at the pub). Our suggestion is also to wear comfortable shoes – it's an easy walk but a good half-hour to forty minutes from the church to the burial.
Polly also expressly requested a great party, and many of you will know that Polly & Jojo have a reputation for throwing great fancy dress parties. This summer's party was to be themed for Alice in Wonderland… and shortly before she died, Polly emphasised that it should absolutely go ahead as planned.  So if you can't make the funeral, don't worry – you can rummage in your costume box and come and join the playing cards, chess pieces, caterpillars and dormice somewhere in the Cotswolds on Sunday 30th June!
Let's make this Tea Party a fitting tribute to Polly – and that means dressing up, laughter, music, dancing and a spirit of adventure… with oodles of shared food, love and a sprinkling of magic and miracles.  More details nearer the time.
We shall have more to share on the campaign soon and the fantastic team carrying Polly's work forward. The baton passes to us now – and to all of you.  Who knows, perhaps we can reach the magic « Million Earth Protectors » before the party… 
Meantime, warmest love and deep thanks for all the incredible messages of support we have received from all over the world.  
We are all connected through our love of the Earth.  Polly too.
*** Polly's Team ***
PS if you're new to this list you can read the previous newsletter HERE.