Announcing our 2022 Summit – Together We Can
Following last year's What Next? Summit, join us to unleash the power of what we can do and be together. Expect to be nourished, supported and inspired, with mind-watering talks, practical skillshares and spaces to connect.
It's been a tough time for community action. Alone, we can feel powerless, anxious and exhausted trying to respond to the challenges of our time.
We can't do much in isolation, but together, we can. Together, we can rise to these challenges we face.  Together we can find and activate our hope and power. Together we can build a better future. Together, we're already showing the way. Together we can learn, heal, challenge and re-energise. Together, we are better, stronger, more powerful.
Together we can create life-changing online summits! This Summit will put the fire back in your belly, the spring back in your step, the hope back in your activism. We want you to be part of it. Because Together We Can.
How can I be part of it?
This Summit is about all of us, and we'd love your help to shape it. Complete our short survey below (in English or Welsh) and share your ideas, questions, what would help and interest you.
The Summit will be followed by a week-long open space to keep the connections and energy going where participants want to take it. We'll let you know how to convene an open space session nearer the time.
DIY Video workshop – 10 February, 7-8pm
Join us for a practical online workshop to learn how to make simple videos on your smartphone and tell the story of your community project. Videos are a creative and engaging way to get people interested in what you do and demonstrate the impact of your work.  Led by Peter Lefort, who has supported communities for 10+ years, and Rhiannon Colvin, Transition Together's Communications Lead. All welcome – no technical experience needed!
Visioning guide
It's the time of the year for reflecting back and looking forward. Check out this What if? Visioning guide, an interactive step-by-step process to help your group visualise and explore the changes you want to see this year and beyond.
Introducing new Transition Groups
Despite the Covid crisis, new Transition groups have been forming across the country. We talked to three groups to find out what it's like to start a new group in these strange times, including
Kew the Transition
. Mex and Caitlin (pictured above) founded the new group and spread the word with street stalls, giving out plants, online meetings and creating 'mini meadows' – planters of wild flowers in public spaces. « We're in a really green area in Kew, but there's not really a lot of action amongst the community, » said Mex. « This has definitely brought neighbours much closer together. » Read the full blog
here
.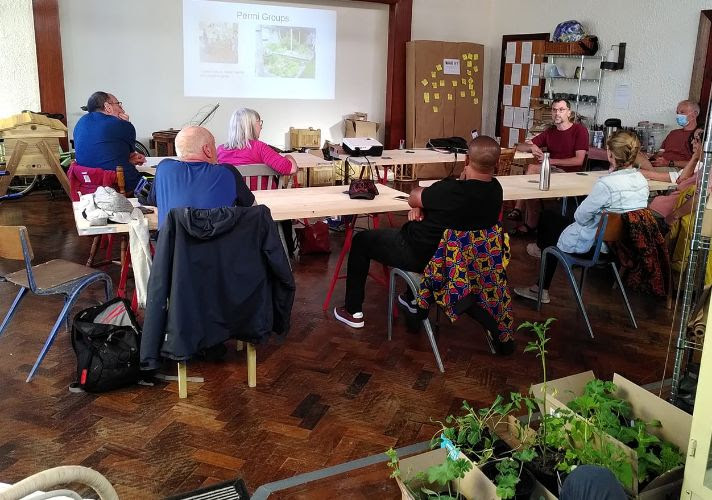 Transition Teesside
Bounce Forward seed-funding came at just the right time for the fledging
Transition Teesside
group. They applied for funds for workshops on climate-friendly gardening, solar power and inclusion. Catherine Howell said people valued connections, feeling they had solutions and weren't tackling climate change alone.  « That little tiny grant really did help kickstart things and clarify our thoughts. It kicked us up the backside to say now's the time! » she said.
Planet Heswall
Some of those who formed
Planet Heswall
were travelling to nearby groups before they decided to start something in their own town. Formed just 6 months before lockdown, they had to adapt from meals and meetings, to online films and engaging the community at outdoor events.  Nick Drew reflected: « Every transition town is different and they are all based a round the unique character of a community. That's why you've got to build it from within. »
Help map Slow Ways
Slow Ways is an initiative to create a national network of walking routes connecting all of Great Britain's towns and cities as well as thousands of villages. Over 100,000kms were charted since the 2020 lockdown, and they are currently seeking individuals and groups to help verify these routes. Check out a series of regional Zooms to find out more and get involved here.
Mining for minerals
For a deep dive into the issues raised by mining the minerals powering the global energy transition, join this online event by Institute for Development Studies on 27 January.
Surviving the Future course
For those seeking insights and allies to help themselves and their communities through profound change, Sterling College in the US is hosting an 8-week deep dive into its Surviving the Future course starting on 31 January. With input from transitioners Shaun Chamberlain and Rob Hopkins, it's a chance to explore responses as part of a small global community. Find out more.
Post-Extractive Futures workshops
This three day online workshop series hosted by War on Want UK, Tipping Point UK and JunteGente aims to provide a space of mutual learning and solidarity weaving among activists. From 1-3 February, it will explore themes of decolonial visions, freedom stories, healing alliances and how we can build a world of climate justice together. Find out more.
Job: Food Futures
Food Futures are seeking a Closing Loops Project co-ordinator developing regenerative food culture in North Lancashire. Apply by 31 January.
Job: Permaculture Association
Seeking Devon Woods Project Manager working with landowners to improve land management in North Devon. Apply by 1 February.
Job: Green New Deal Rising
Adding to their communications team, recruiting a Digital Campaigner. Apply by 8 February.
Job: Hubbub
Hubbub is recruiting a Chief Executive, as its founder steps down. Apply by 14 February.
We'd love to hear about your local projects and news to share with the network. Get in touch here. Deadline for the next newsletter: 10 February. 
Our mailing address is:
Transition Together
c/o Darnells
30 Fore Street
Totnes
Devon
TQ9 5RP
UK01803 865 669
info@transitiontogether.org
Copyright © Transition Together 2022, All rights reserved.
Want to change how you receive these emails?